Nearly one half of all the cases A2L Consulting works on involve some form of intellectual property. Most intellectual property cases lend themselves directly to the use of animation and other forms of demonstrative evidence and trial graphics. This is because most intellectual property cases involve highly technical information, which is usually outside the normal range of comprehension of the average judge or jury. Therefore, a common solution to this problem is to utilize a combination of animation and other trial exhibits in order to simplify and clarify this often dry and boring technical information.

A2L's vast experience in intellectual property litigation and intelletual property graphics has proven that there is no more effective manner in which to present this type of information than through a visual format. The use of animation, in particular, in order to simplify issues and educate the modern day jury is akin to the Discovery Channel educating an entire generation of TV viewers.


Patent
The overwhelming majority of intellectual property cases that A2L works on are patent litigation cases. This is because patent litigation typically involves highly complex, scientific data. Therefore, animation is commonly used because of its unique ability to bring to life and simplify this often dry and confusing subject matter.


The common scenario facing many patent litigators is that the average lay juror is asked to determine if one design infringed upon the design of another. Moreover, many patent cases turn on the litigator's ability to highlight extremely subtle similarities or differences between two designs which are typically not obvious to the untrained eye. Therefore, animation is particularly effective in patent litigation because it allows the patent litigator to easily identify, highlight and explain the various technical features of a particular design which are at issue in the litigation.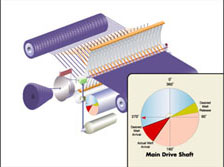 One noteworthy case for Holland & Knight involved a patent dispute over a weaving machine technology in which the client faced the threat of more than $170 million in damages. Through the use of animation and carefully crafted trial exhibits, A2L was able to demonstrate that, not only was there no infringement, but more importantly, that despite the Plaintiff's assertions to the contrary, the Plaintiff was fully aware that the Defendant had been utilizing the particular technology at issue for over 17 years. The result was a complete defense verdict.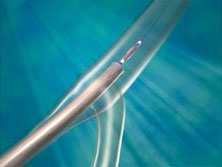 In another case, A2L worked with the trial team at McDermott Will & Emory, whose client was facing in excess of $100 million in an infringement action involving an arterial stent, an implanted medical device used to support damaged blood vessels. Through the use of standard trial boards and computer animation, the trial team was able to effectively contrast the client's technology from that of the Plaintiff's. The use of animation was particularly effective because the litigators were able to highlight aspects of the client's technology that would not normally be obvious to the lay juror.

A2L has extensive patent experience working with such clients as Morrison & Foerster, McGuireWoods, Crowell & Moring, Jones Day, Finnegan & Henderson and Dickstein, Shapiro et al., in a wide array of industries including: petroleum polymer, online charitable contributions, securities software, biological testing machines, high profile national pharmaceutical products and genetically altered organisms.

Whatever type of legal issues or technical data are involved, the A2L team of attorneys and artists is certain to have the skill and knowledge necessary to create world class animations and trial exhibits.