by Ryan H. Flax, Esq.
(Former) Managing Director, Litigation Consulting
A2L Consulting
A2L has a wonderful partnership with Courtroom View Network (cvn.com), which is a warehouse of video footage of courtroom presentations of all kinds and should be a valued resource for attorneys and law school students wishing to educate themselves on the "to-dos" and "not-to-dos" of litigation argument. I have been browsing the intellectual property video footage at cvn.com and wanted to provide you two examples of different presentation styles in patent litigations: one using no graphics and one using graphics. I compare and contrast these presentations below.
First, here is a 5 minute video of attorney Joseph Zito introducing a patent at suit and discussing its technology, a bone screw. Watch it and then see my commentary after the jump.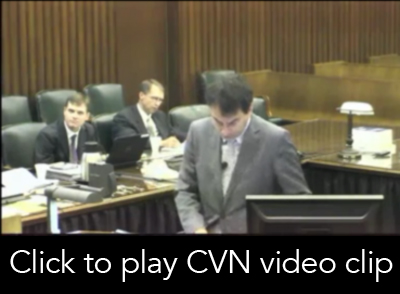 What did we just see? This was a Markman hearing – the hearing before the court where counsel argues for a certain interpretation of the patent's claims as a matter of law. The judge is the audience – there's no jury at this point.
You see that Mr. Zito has elected not to use any litigation graphics to help him explain the technology or to argue his case. Instead, he's chosen to use an ELMO overhead camera machine to show paper documents, including the patent and his claim charts. He explains the technology by flipping the patent's pages to its drawings. He explains the claims at issue by pointing to his claim charts that quote the patent's claims. He's also decided to showcase his fingers and pen.
Did you find what Mr. Zito had to say interesting? Did you particularly follow any of what he said? Did you find it easy to watch all 5 minutes of the argument?
I did not find Mr. Zito's argument interesting, and I must admit that I found myself daydreaming just a little during the brief 5 minutes of video. The technology here is not super-complicated. It's basically a screw with a threaded head and how it interacts with a bone plate. This is not too hard to understand, but I don't feel I really get much of what Mr. Zito wants to argue and he sure hasn't made bone screw technology interesting (it could have been to me as I'm quite partial to medical device technology).
Now let's watch another courtroom video. Here is another 5 minutes of another attorney, John Adkisson, who, similar to Mr. Zito, introduces a patent in suit and its technology (completely different case). Watch it and see my commentary after the jump.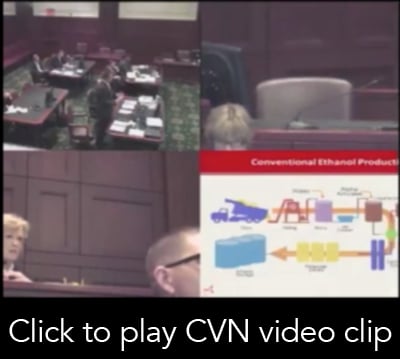 What did we see here? Attorney Adkisson made, what I believe, a more interesting presentation – and, all things being equal, a better trial presentation.
First, we see Mr. Adkisson adhere to our first rule of persuasion: frame your case as a story. He introduces his client and the inventor and sets the scene for the judge. He asks and answers the all-important question of "why are we really here?" – we're here because of (Professor) Dr. Paul Blum's invention in hyperthermophillic organisms (whatever that is).
Moreover, Mr. Adkisson uses litigation graphics to make his case. He hasn't yet gotten to the real meat of his arguments yet, but we know what patent is at issue here, what the invention is about, which claims are being asserted, and how they might be infringed. Furthermore, Mr. Adkisson uses an immersive presentation style where he always shows the judge a graphic while he makes his argument – this is the only way to significantly improve your persuasiveness using visual support.
I'm not saying that Mr. Adkisson's trial presentation/argument style was perfect – far from it. He made some elementary mistakes that could wind up killing his presentation, e.g., using bullet points, not animating his graphics, simultaneously saying what's written on his PowerPoint slide. However, he did a far better job using litigation graphics than Mr. Zito did without litigation graphics.
What do you think? Which style of trial presentation did you find more interesting? Which held your attention longer? Which presentation's information did you feel you understood better and
which did you retain longer? I'd say the second one, but I'd love to hear from you.
Other A2L Consulting articles and resources related to storytelling, patent litigation, Markman hearings, trial presentation and litigation graphics: