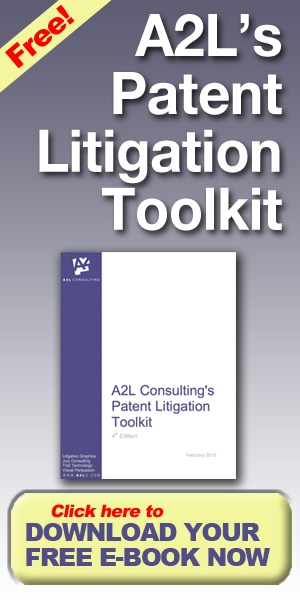 by Ken Lopez
Founder/CEO
A2L Consulting
Since our founding 20 years ago, nearly half of our consulting work has involved patent litigation. Patent cases are uniquely suited to our brand of consulting, which relies on storytelling, persuasive demonstratives, and the simplification of complex materials for communication at trial. So it is with great pleasure that we release the 4th edition of our Patent Litigation Toolkit (download here).
It seems obvious that our litigation consultants and litigation graphics consultants would routinely help patent litigators make their cases presentable and digestible for jurors. After all, these cases are often incredibly complex, involving issues of detailed mechanics, organic chemistry, and cutting-edge electronic technology.
Less obvious perhaps, is the need for good storytelling. In fact, a lack of good storytelling is the undoing of many a patent case and patent litigator. After all, jurors will develop a story about your case whether you give them one or not. If you've done your trial preparation correctly, you will have offered one to them that they can believe in.
This complimentary 270-page book is designed to help you with all of your patent litigation challenges - from storytelling to the simplification of complex material. I think you'll find articles like these very helpful:
5 Tips For Inter Partes Review Hearing Presentations at the PTO
11 Tips for Winning at Your Markman Hearings
16 PowerPoint Litigation Graphics You Won't Believe Are PowerPoint
Introducing Mock Markman Hearings to Patent Litigation
Trial Graphics in Patent Litigation - 11 Great Demonstrative Tips
Explaining a Complicated Process Using Trial Graphics
10 Things Every Mock Jury Ever Has Said
5 Questions to Ask in Voir Dire . . . Always
5 Essential Elements of Storytelling and Persuasion
12 Worst PowerPoint Mistakes Litigators Make
This book is completely free and one of 20 that we offer as a complimentary resource to the legal industry. Download The Patent Litigation Toolkit 4th Edition by clicking here or by clicking the image below.