Construction cases are among the most difficult for even the most experienced litigator to present to a jury.

As Gary Greenberg, a professional engineer and frequent expert witness in construction cases, has written on a construction blog, trials involving construction defects, failures to perform up to specifications, scheduling problems, and similar issues create many practical problems for trial lawyers.

Greenberg notes that jurors often become lost in technical jargon, don't understand the sequence of activities required to complete a construction project or the relationships and responsibilities of the various parties, and fail to see why every major construction project is truly unique and cannot be compared to producing widgets in a factory.

Greenberg, who works for Arcadis, a well-known consulting firm, writes that in one case in which he testified, a jury found that a design professional violated the standard of care, caused a six-month delay to the opening of a new hospital wing, and was responsible for the need to rework various essential systems, but was assessed only one dollar in damages by the jury.
Clearly, many otherwise skillful attorneys have often failed to do a good job in persuading juries to award damages to their clients, even when there has been considerable proof of a significant loss.

We are aware of all these issues and problems, and we have prepared a number of trial presentations that have successfully set forth a complex set of facts in a way that is appealing and intuitive to jurors.

The "Construction Litigation Graphics Showing Construction Delay" animation covers months of construction in less than three minutes, using small boxes to represent panels needed in the project and to show how many areas were left unfilled during construction. This gives jurors a clear picture of the delay that occurred in this particular instance.



In a construction project, delays in one part of the project often have cascading effects and cause construction delay in the entire project. Jurors often have a hard time understanding the concept of a "critical path" – a sequence of activities that must be followed in order to get the project done. This idea is developed on a visual basis in the below overview trial exhibit, "Understanding Construction Schedule Charts." We use standard construction chart flags, colored bars, and other graphic devices to introduce the subject.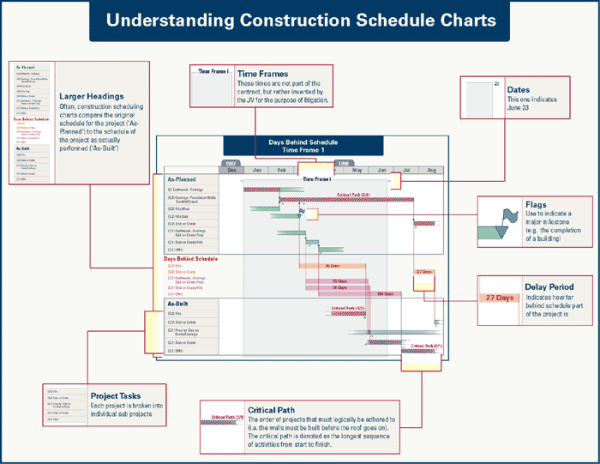 A typical construction defect case, involving an inadequate technique for soil compaction, is clearly explained in our trial graphic, "Actual vs. Recommended Structural Compacted Fill." Here we show graphically how a building footing was placed on top of unsuitable or uncompacted soils, potentially leading to serious damage.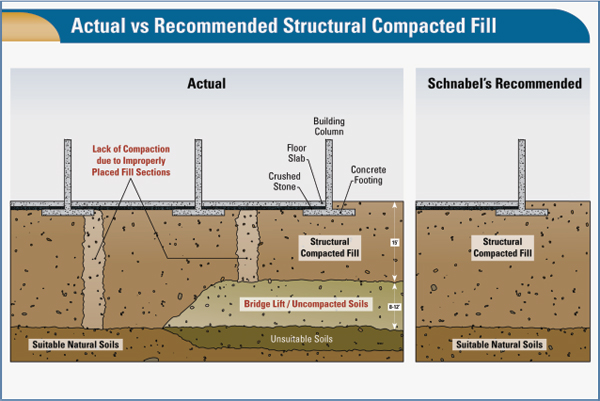 These trial exhibits show the breadth of ways in which we can make complex construction concepts clearer to juries.