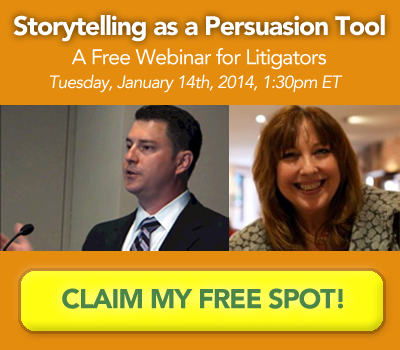 by Ken Lopez
Founder/CEO
A2L Consulting
One thing that all successful trial teams seem to have is the ability to tell a well-developed story. It doesn't matter whether it's a patent case, a white-collar crime case, or a commercial case – they always know how to build a narrative that appeals to a judge or jury. It's what great litigators do. They know that human beings are natural story-tellers and that story-telling is therefore the best means of persuasion.
Remember: A story is not a simple recitation of information and facts in chronological order. It is a tale of character-rich events told to evoke an emotional response in the listener.
Simplicity is power. A successful litigator can refine mountains of information into a neat and compact outline of evidence that tells a compelling narrative that provides simple and persuasive themes. That task, however, can be easier said than done.
How, then, should a litigator actually go about telling stories? We have found that telling stories effectively is part art and part science. At A2L, we know what works in practice, and we know what works based on real science, and, most importantly, we will tell you both in our next webinar.

We are running a webinar on "Storytelling as a Persuasion Tool," on Tuesday, January 14, 2014, at 1:30 pm Eastern time. This will be a free 60-minute program taught by our top litigation persuasion experts, Dr. Laurie Kuslansky and Ryan Flax, Esq.

Dr. Kuslansky will reveal the science behind why storytelling works, using lessons learned from more than 400 mock trials and 1,000 litigation engagements. Litigator turned litigation consultant Ryan Flax will share what he has learned about storytelling, especially visual storytelling, while trying complex cases for a dozen years and helping to amass more than $1 billion in jury verdicts for his clients. He is now helping hundreds of top litigators as a litigation consultant at A2L.
The webinar will begin on January 14, 2014, 1:30pm Eastern Time, and will last for one hour, with an additional 15-minute question-and-answer period.

In the webinar we will cover:
The science behind the storytelling

When it's appropriate to use stories

A useful plan that will help you tell your stories more effectively


How to use litigation graphics to enhance your storytelling

This webinar is suitable for anyone with an interest in litigation, but it is primarily designed for the courtroom lawyer.
To register for this free program, please click here.