Whenever a litigation team presents a document in a graphic way to the jury or other fact-finder at trial, there is an occasion for a document call-out. A "document call-out" is a term of art that means taking a document that is in evidence at trial and highlighting some key portion of it for easy reading and to draw the viewer's attention to the key language.
There are three usual ways to perform a document call-out: With trial presentation software such as TrialDirector, with a static exhibit with something highlighted, and with a PowerPoint presentation.
Each of these techniques has its pluses and minuses, and within each of these options there are various styles. Here is a summary of the pros and cons.



1. Within Trial Director, there are a variety of tools for creating document call-outs, either in advance or live, on the fly. In this video, you can see the screen of one of our hot seat trial technicians as he makes document call-outs on the fly during a televised arbitration. Here, certain key accounting figures are highlighted through the use of color, the use of a moving cursor, and the use of a zooming-in technique to make certain numbers more prominent.

2. In a static exhibit, when used as the old-fashioned printed foam core trial exhibit board or on a slide, the document call-out becomes quite powerful. In today's cases, where most exhibits are presented on screen, a printed board of the key document in a case can be a great tool.
Further, sometimes the document call-out can provide something more. In the below document, the message we wanted to convey to the jury was that the failure to follow procedures on the ground (to STOP traffic) was what led to the accident, not air traffic control. The octagonal red area functions both as a document call-out, to highlight the established policy on the ground when there is an incoming helicopter, and also as a strong visual reminder that it was necessary to stop traffic and that this was not done.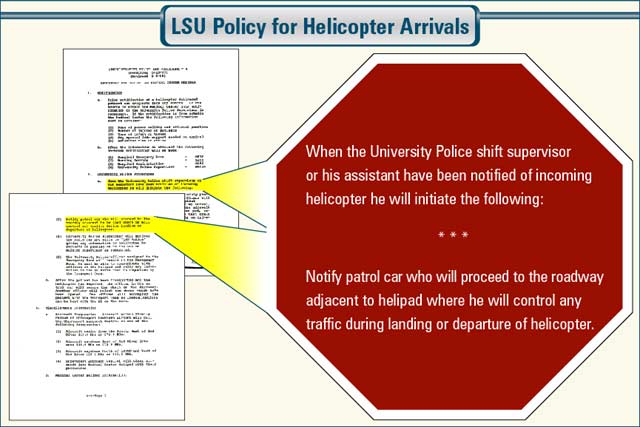 The call-out below emphasizes the crucial language of an insurance policy defining the important term "accident."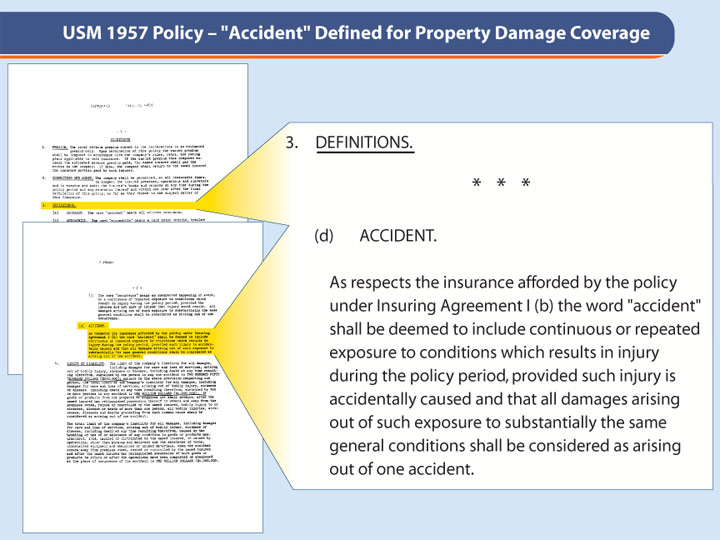 3. In PowerPoint slides, there are various techniques for calling out document text culled from various courtroom presentations. In this series of slides captured from a variety of PowerPoint presentations, we illustrate a number of common document call-out techniques.