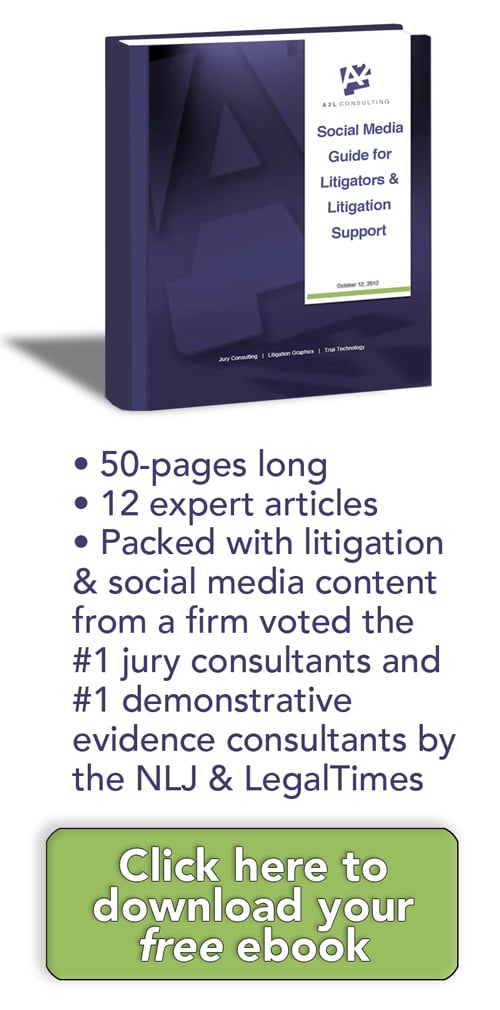 by Ken Lopez
Founder & CEO
A2L Consulting
Here at A2L Consulting, we have just published our latest e-book. This one is entitled The Social Media Guide for Litigators and Litigation Support.
We think it will be useful to any attorney or litigation support professional who has anything to do with social media and who has anything to do with proving facts or putting on witnesses in the courtroom – in short, for any courtroom professional.
Social media are completely inescapable these days. When you realize that they include blogs, YouTube videos, Twitter feeds, anything on Facebook, the ever-growing Pinterest, you understand that nearly everyone who is online uses or comes into contact with social media every day.
This e-book is designed to help trial teams and those who support them make social media their ally rather than their enemy.
Consider: If you are picking a jury, you need to know what social media the prospective jurors are involved in and what they are learning about topics related to the case at hand. If you are engaged in discovery, you need to know how to get your hands on social media posts that may be relevant to the points you want to make at trial. If you are preparing an opening statement, you would do well to look at YouTube videos of top trial lawyers explaining how to do that. Ten years ago, how would you have gotten a chance to get that good advice? If you are in the middle of a heavily publicized trial, you need to see what the sentiment on Facebook and Twitter concerning your client may be; this will help you conduct a well-informed closing argument.
There are dozens of other ways in which social media can affect the life of a trial lawyer or litigation consultant, mostly for the better.
You also need to understand the way in which case law reflects the prevalence of social media. When can a mistrial be declared because a juror is tweeting from the jury box? What restrictions exist on what a public company can say on Twitter concerning its financial results? Does federal labor law protect comments made by employees on Facebook concerning their working conditions? Who becomes the owner of an employee's Twitter account when the employee resigns? When we were in law school, there were no cases on these topics. Now they are being decided nearly every day.
Among the topics in the e-book are: Ten Things to Know About Social Media and Jury Consulting, 21 Valuable Facebook Pages for Litigators and Litigation Support, The 50 Best Twitter Accounts to Follow for Lawyers and Litigators, Ten Outstanding YouTube Channels for Lawyers and Litigation Support, The Top 14 Blogs for Litigators and Litigation Support Professionals, and 11 Great Social Media Videos for Litigation and Litigation Support.
Anyone who is selecting a trial graphics consultant, jury consultant or courtroom trial technician needs to select one who is fully aware of these issues and who understands that a single social media posting can be the key to success in a case. Here at A2L Consulting, we think about these issues every day and we know that our advice to our clients must constantly change in response to the constant changes in social media.
If you work in a courtroom, there is something valuable here for you. Click here to download the completely complimentary Social Media Guide for Litigators and Litigation Support.