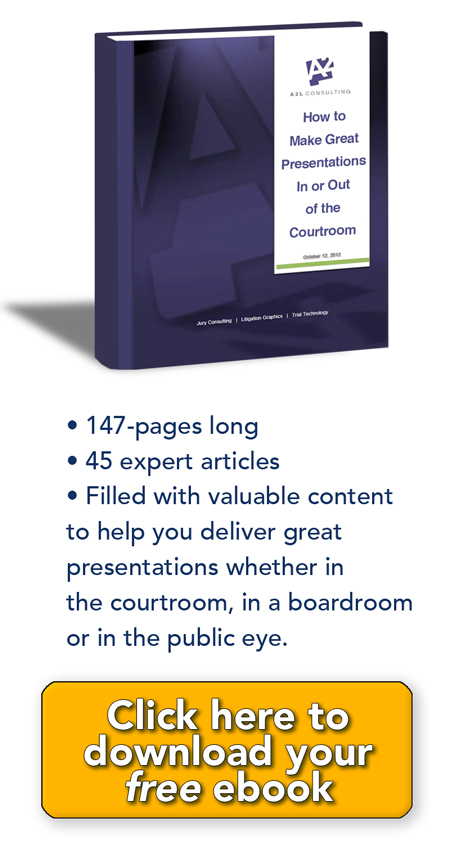 by Ken Lopez
Founder/CEO
A2L Consulting
Great speakers are not born; they learn their craft. Great speakers practice. A lot. Getting everything right takes time: Whether in the courtroom, in the boardroom, or on a public stage, delivering a great presentation is 90 percent preparation and 10 percent raw talent. We often prepare, but we seldom prepare enough.
Our business at A2L is helping some of the world's best communicators communicate even more effectively. We want your presentations, at trial or in any legal venue, to be as persuasive as possible through good use of body language, cohesive storylines, and effective graphics.
We have put together a new e-book entitled "How to Make Great Presentations in or out of the Courtroom." We think the book will be useful to trial lawyers, or indeed to anyone who is called upon to make a persuasive oral presentation in any setting.
This book compiles lessons and best practices from our experiences over nearly two decades, together with other resources, many of them gleaned from the researches of leading scholars who have studied how the human mind receives, processes and stores information. We have also looked at the work of scholars who have studied the history and effectiveness of story-telling. And we have taken advantage of the insights of Hollywood directors, who know how to capture a viewer's attention and who will ask for innumerable takes as "preparation" to do a scene perfectly.
Among the topics covered in this book are "Five Keys to Telling a Compelling Story in the Courtroom," "Ten Videos to Help Litigators Become Better at Storytelling," "Great Courtroom Storytelling Articles From Trial Experts," "Trial Presentation Errors That Lawyers Can Easily Avoid," "Litigation Graphics Psychology and Color Meaning," "The 14 Most Preventable Trial Preparation Mistakes," "New Study: A Graphically Immersive Trial Presentation Works Best," "Practice, Say Jury Consultants, Is Why Movie Lawyers Perform So Well," "Three Ways to Force Yourself to Practice Your Trial Presentation," "Explaining a Complicated Process Using Trial Graphics," and "Litigation Graphics Timelines Can Persuade Judges and Juries."
I hope this book helps you use your preparation time efficiently and greatly improves the rest of your presentations as a result. Get started right away, give yourself enough time, and let me know how things go. You can download this valuable new e-book here.