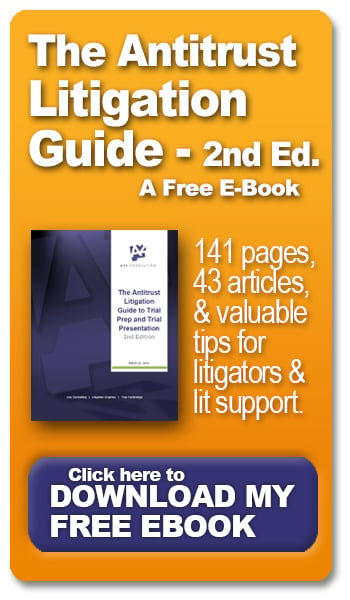 by Ken Lopez
Founder/CEO
A2L Consulting

Antitrust trials are second in frequency only to patent trials for the types of cases A2L Consulting is engaged to support. Indeed, in the past year, we have worked with several Fortune 50 firms in their battles against the recently invigorated U.S. Department of Justice Antitrust Division.
Interestingly, we're not always on the defense in antitrust cases. Sometimes we work in support of private plaintiffs and sometimes we work for the U.S. Department of Justice's Antitrust Division. As a result, we have an excellent perspective on what it takes to be successful leading up to and during an antitrust trial.
The issues in any of the cases we work on usually relate to market power, price fixing or involve Hatch-Waxman ANDA claims. In any of these cases, the evidence most often involves a lot of charts and math that could only appeal to people with a degree in economics (I happen to be one). As a result, like a patent case or like a case involving scientific evidence, an antitrust case requires a lot more trial prep than most cases.
Good trial prep in an antitrust case includes building a meaningful and compelling story, working with the experts to make their complex testimony understandable, and developing demonstrative evidence that is clear and persuasive. None of this is easy, and in my experience some of the best trial lawyers in America struggle with the presentation of antitrust matters at trial.
So, it is in the spirit of sharing what we have learned in nearly 19 years of supporting antitrust cases at A2L that we release, The Antitrust Litigation Guide to Trial Prep and Trial Presentation (2nd Ed.).
This free 141-page book will be useful to new and veteran antitrust litigators alike. Even expert witnesses or those in litigation support will find useful lessons among the 40+ articles compiled in this fine work. We cover topics like:
Antitrust, Pharama & Hatach-Waxman Litigation
Monopoly Power & Price Fixing
12 Alternative Fee Arrangements We Use and You Could Too
21 Ingenious Ways to Research Your Judge
The Top 14 Testimony Tips for Litigators and Expert Witnesses
and much more.
I hope you enjoy this book. We really work hard to be thought leaders in our unique area of litigation support that includes litigation graphics, jury consulting, trial technology and visual persuasion services.
This book is completely complimentary with no strings attached. You may download it by clicking here or on the image below.