Working at A2L, I have the distinct pleasure of watching many of the world's best trial lawyers prepare for trial. Most start months or years in advance.
Those lawyers engage A2L early to do theme testing with a focus group or to organize and run a mock trial. Each of these events requires the creation of litigation graphics and usually assistance in developing an opening statement.
Having watched so many great trial lawyers prepare for 25 years, I have been able to observe patterns in how they prepare. Below I share ten chronologically ordered tips (plus accompanying resources) based on these observations. If you're less than one year from trial, I hope these tips are still helpful, and I hope you will get in touch with me.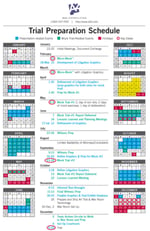 More than one year from trial: There is no better time to do theme testing then when discovery is still open. Read more in How Early-Stage Focus Groups Can Help Your Trial Preparation and as you start this journey, always remember that Great Trial Lawyers Behave Differently.
One year before trial: Plan your first of two mock trials. There are dozens of good reasons to conduct a mock trial, but forcing yourself to prepare early may be the very best one. Read my one-year trial planning guide and read A2L's Opening Statement Toolkit. Also, it is a good time to read A2L's Jury Consulting and Mock Trial Handbook.
Nine months before trial: Begin or continue development of your litigation graphics. If you conducted a mock trial, you already have a good start. Read How Long Before Trial Should I Begin Preparing My Trial Graphics?, 10 Reasons The Litigation Graphics You DO NOT Use Are Important and The 13 Biggest Reasons to Avoid Last-Minute Trial Preparation.
Six months before trial: Refine your opening statement story and the visuals that will support it. Make sure your experts have their visuals being worked on by your litigation graphics team - not the in-house people at the expert's firm. Watch Persuasive Storytelling for Trial Lawyers and read Storytelling for Litigators. To help develop your experts, have them read this three-part series on How to Be a Great Expert Witness.
Three months before trial: Conduct opening statement practice sessions with your trial team, litigation consultants, and your client. Read The First Version of Your Story Is NOT Your Best, 3 Ways to Force Yourself to Practice Your Trial Presentation, and Practice, Say Jury Consultants, is Why Movie Lawyers Perform So Well.
Two months before trial: Conduct your second and final mock trial. Make sure this one has a voir dire component. Read A2L's Voir Dire Handbook.
One month before trial: Conduct all witness prep. Work with a firm like ours on your most important or most challenging witnesses. Read Witness Preparation: Hit or Myth? Also, make sure your experts are prepped for trial and consider sharing The Top 14 Testimony Tips for Litigators and Expert Witnesses with them.
Two weeks before trial: Your opening statement should now be finalized. It's a good time to make sure all parts of your trial team are running well. Here's a 10 point check-list to make sure your team is operating at the highest levels. If anxiety is high on the team, there are techniques to reduce trial team anxiety described in 5 Signs of a Dysfunctional Trial Team (and What to Do About It).
One week before trial: Practice your opening repeatedly with your trial technician until it feels like a well-rehearsed play. Read Why Rapport Between a Trial Lawyer and a Trial Technician is So Important and Trial Lawyers, Relinquish the Clicker.
The night before trial: Send a thank you note to your trial team (don't forget your litigation consultants!) for their hard work and then sleep. The best trial lawyers sleep best leading up to trial because they know everything is ready and has been well handled.

I hope you found this list helpful. I would love to field any questions you have about our services or litigation consulting in general. Please feel free to also use our 24/7 conflict checking system.