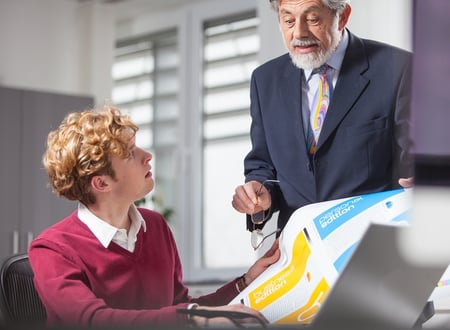 by Tony Klapper
Managing Director, Litigation Consulting
A2L Consulting
War rooms at trial are very intense, high-pressure places. Obviously, the lawyers in the trial team are going to make the war room their "office" for the duration of the trial, as will other team members such as paralegals and consultants. Here are five reasons why a trial team should always consider having a graphic artist on site, right beside the attorneys.
If an artist is not there, side by side with the lawyers, the team will lose a certain amount of flexibility and responsiveness. If a lawyer wants a visual to be slightly modified, based on testimony that's just now being heard, there's nothing like having someone by her side to share thoughts with. The response can be immediate and in real time.
Communication between the lawyer and the litigation graphics artist is much easier to achieve. If the artist is not there, miscommunications can creep in like a child's game of "telephone." A lawyer can show an artist on site exactly what she means because the artist is able to see and hear the lawyer, not just read an email or listen on the phone.
Since a trial is such a high-stress environment, everyone's ability to communicate clearly and effectively is diminished. A team that doesn't have an artist present runs an elevated risk of communication errors.
Lawyers should want their graphic artists not just to follow directions but to be sounding boards who advise the lawyers about what's the next step from a graphics perspective. An artist will feel much more comfortable responding to an attorney in a creative manner, marshaling all of his artistic experience, when he is right there beside the attorney. If the artist is not there, that frankness can be lost.
Studies of collaboration show that it is at its best when the people collaborating are both in the same room. If the artist is not in the room with the lawyers, collaboration can give way to "parallel play."
Other free A2L Consulting articles related to litigation graphics, working with litigation graphic artists, and using demonstrative evidence well include: