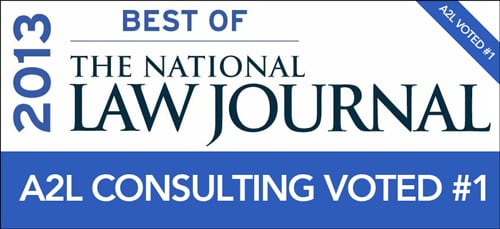 Ken Lopez
Founder & CEO
A2L Consulting
For someone who is on trial, there is often no substitute for a jury of one's peers in rendering a fair verdict. For a company such as A2L Consulting, which works with the top litigators in the nation every day and provides trial consulting services, there is no substitute for the judgment of the people we work with on a regular basis. And those judgments, embodied in a National Law Journal nationwide survey, placed us first in the category of demonstrative evidence providers.
More than 450 firms were nominated in the various categories, more than 5,000 non-vendor votes were tallied and A2L Consulting outpolled some very well-known trial exhibit and demonstrative evidence firms to reach the #1 spot.
We are very proud to have earned the confidence of the legal industry, with whom we go to trial in state and federal courts across the country. The trial exhibit and trial consulting field has changed dramatically from 1995, when we were founded. For example, in our less than two decades in business, PowerPoint became the standard for presentation software, jury consulting services are increasingly moving online and printed trial boards went out of favor and are now undergoing a renaissance. At A2L, our job is to stay ahead of the rapid pace of technology in many different areas.
We hope to work with you in the future. Our principals are trial lawyers ourselves, and we understand the pressures and dilemmas that trial presentations involve. We can and will be at your side in creating the best possible presentations and the most convincing evidence.
You can download the full 2013 National Law Journal guide to the top legal support service companies by clicking here or on the image below: