by Ken Lopez
Founder/CEO
A2L Consulting
Every year, our firm receives awards in a variety of litigation consulting and blogging categories. I don't often promote those achievements in this blog, as I regard the blog as primarily educational in nature.
However, I do believe that there is real value in knowing which firms your peers are rating highest in the industry. Not only does this help you save time and energy when you want to engage a litigation support firm, it helps you know the up-and-coming firms and what the market trends look like.
Recently, Legal Times, one of a few elite legal publications remaining, asked its readership to identify the best consultants in a variety of categories including e-discovery, legal banking, legal recruiting, and many more. I'm happy to announce that A2L Consulting was voted the number one jury consultant ahead of other industry giants FTI Consulting and DecisionQuest.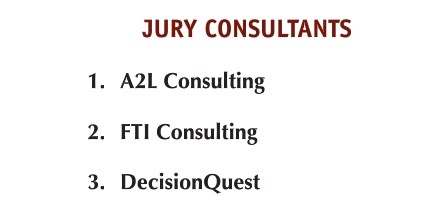 I've always admired those firms and the work that they do. We are friendly competitors, and I congratulate them on their achievements.
The leader of our jury consulting practice is jury consulting industry veteran Dr. Laurie Kuslansky. Coincidentally, she has held leadership positions with both of the other two top-ranked firms. Her record and reputation in the industry are excellent, and her bio/CV/references can be viewed or downloaded here.
Dr. Kuslansky shares my view that jury consultants alone are not to be relied upon as gospel for advice on jury selection, theme development, and storytelling. This method of jury consulting is antiquated, but still practiced by many jury consultants.
The preferred method for assisting top trial teams is, rather, to listen to the data developed by conducting well-designed mock trials and focus groups. The data is in the form of feedback from mock jurors or mock judges. Any jury consultant can offer a gut instinct (no matter how suspect that instinct is). However, it takes a great jury consultant and jury consulting firm to show restraint and properly interpret the data and feedback from mock jurors and focus group members and know how to blend art and science. The magic comes when a jury consultant can properly obtain good data, interpret it, wisely season it with insightful judgment, and taking in the input of the trial team.
Blindly applying data or narrowly focusing on instinct each has its perils. Likewise, asserting oneself as the smartest person in the room is hardly the team approach clients prefer.
None of the user polls are perfect, but they do provide a useful guide by which to at least assemble a list of potential vendors to consider when potentially headed to trial. The complete Best of the Legal Times 2015 Guidebook may be downloaded by clicking here.

Other A2L Consulting articles about jury consulting, jury consultants, and conducting mock trials: